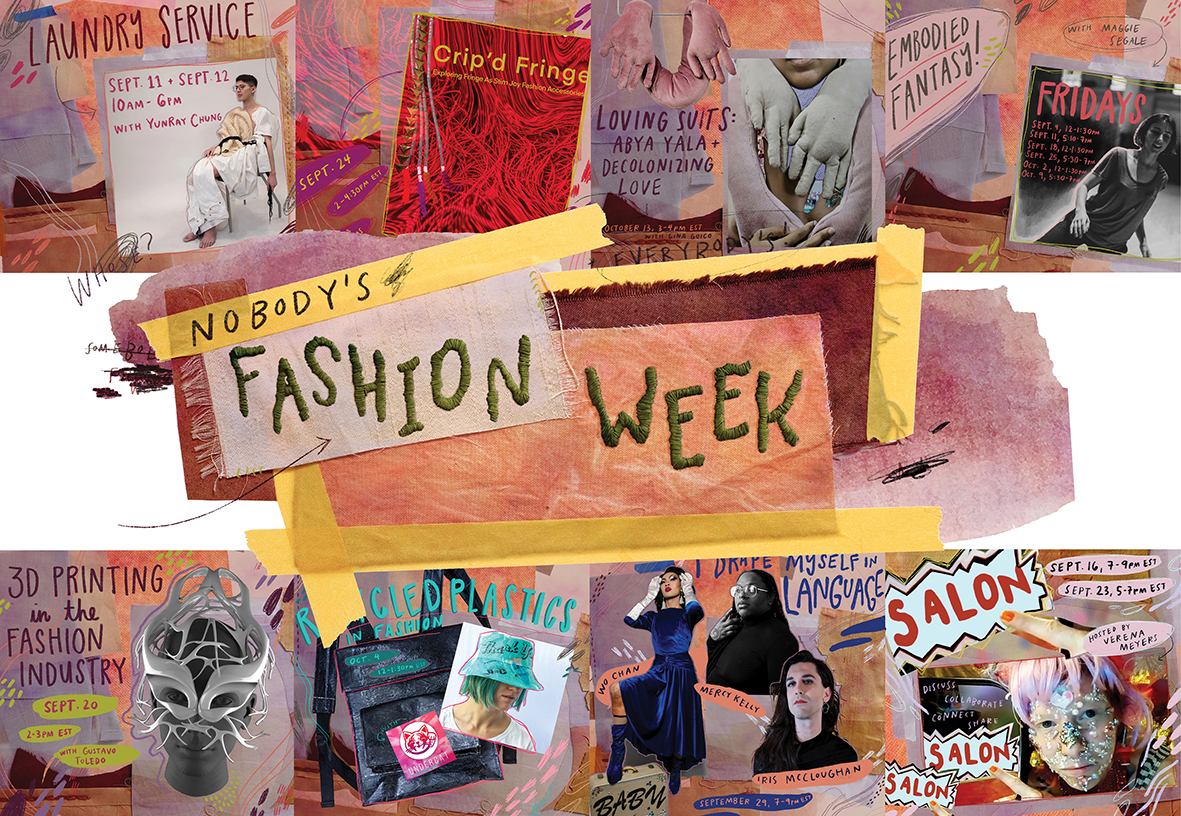 Exhibition Dates: September 1 – October 15, 2020
Curators: Lexy Ho-Tai, Dew Igworia, Jaime Iglehart, Johanna Schwab
Nobody's Fashion Week was hosted by Flux Factory, with support from the Ministry for Arts, Culture the Civil Service and Sport of Austria, the Austrian Cultural Forum New York, Bildrecht – Austria`s Collective Management Organisation (CMO) für Visual Arts, and a generous donation from Joe Castillo.
Press release:
Fashion is all around us. Fashion is body politics, representation, sustainability, systems.
Fashion is a medium that everybody participates in, whether they like it or not. Fashion is
Powerful. Nobody's Fashion Week aims to democratize Fashion by encouraging
multidisciplinary collaboration, skill-sharing culture, and self-expression for everyone.
During Covid-19, we have witnessed the current fashion industry crumble as clothing sales
go down, shows get cancelled, and more people turn to DIY. We ask, with hope: What will
be rebuilt in the shell of the previous industry? Who's Fashion Week is it? Nobody's Fashion
Week is a reimagining of the fashion industry from the bottom up.
Our show was dreamed up as a response to the hegemony, wastefulness and gate-keeping
of the corporate fashion industry. Nobody's Fashion Week is a growing community of
independent designers taking agency in redefining our own Fashion Week and proposing
alternative systems for Fashion.
Nobody's Fashion Week features works and public programs by 20+ alternative artists,
designers, educators and organizers using wearables, textiles and the body as a medium.
Their practices span a range of themes – such as personal identity, body politics, cultural
history, sustainability, craft and technology – but all share roots in critically engaging with
fashion. From September 1 – October 15, we will launch a six week exhibition of Nobody's
Fashion Week, consisting of an online exhibition, artist residency, participatory workshops,
artist talks and other public programming. We want to engage with and empower both
emerging designers and everyday people to find fertile spaces to express themselves
through clothing and to share their creations. We believe people of all backgrounds, sizes
and abilities should have agency over their self-expression. We invite anyone to engage in
our community and conversations as we collectively redefine the future of fashion.